Enjoying life in the city can be as simple as eating fishballs on the sidewalk.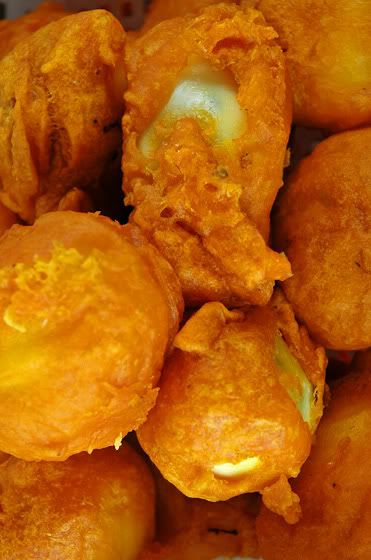 I used to do that a lot on my elementary days. For a peso, you already have 4 little fishballs. But a more enjoyable treat nowadays, and it has already become a favorite in the city, is munching on kwek-kwek. Yes. Kwek-kwek! For people inside the country, yes, we have kwek-kwek here in Cagayan de Oro; for people outside the country, I introduce you to kwek-kwek.

Kwek-kwek is a local treat not only present here in the city, but scattered around the country as well. It is sold in moving stalls put up by local entrepreneurs around the city after the sun sets. Lately, I've been seeing already a number of mini-stores selling kwek-kwek as their main product.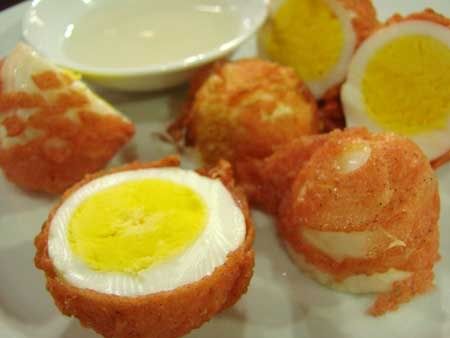 The delicacy is made up of either chicken egg or duck egg coated with a mixture of flour, baking powder, water, salt, and pepper. After which, it is then deep fried. When already cooked, it is either served with vinegar, gravy, or a special sauce made by the vendor. Diced cucumbers are also available for those who want to top their kwek-kwek with a bit of veggies.

One of the biggest factors that make kwek-kwek sell is its affordability. Depending on the vendor, it's either sold at P10.00 or P8.00. Another factor that made it sell is it being sold with drinks (soft drink or buko juice) that ranges from P5.00 to P7.00. It's really very affordable. With P25.00, I feel like I'm already having dinner. I guess that's also one of the factors why many people enjoy eating kwek-kwek. It's really amusing seeing yourself being able to buy a lot with just a little amount of money.

I don't know about everyone else, everyone has distinct tastes; but I really enjoy the feeling of eating out on the streets at night with that cold ambiance and all those colors that light up the streets. So if you enjoy that, too, then I guess you'll enjoy your stay here in this city.